Digital may be on the rise, but the prophets of paper and print's demise clearly never heard of Neenah Paper.
Who says print is dead?
Despite what the internet might have you believe, paper products are as popular as ever. We're talking calendars, posters, packaging, invitations; and yes – even real books. It seems we're hard-wired to connect with physical media over digitized versions of the same content. And that's just the everyday stuff. There are paper products that elevate average print to works of art.
Few companies have transitioned from the Industrial Revolution to the Digital Revolution with such poise as Neenah Paper. While remaining committed to the manufacturing practices that made them an industry leader, Neenah has distinguished themselves as one of the most digitally-optimized paper manufacturers around.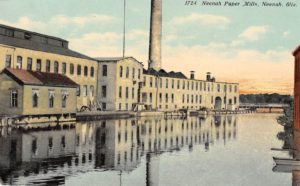 Industry and Environment
If you have a project that involves paper, whether personal or professional, Neenah has you covered. With over 180 color varieties and tons of different textures and weights, the choices are sure to astound you.
From traditional stationary to specialty packaging wrap (our favorite), there are options for almost any conceivable project. Neenah has dozens of brands under their auspices, each with their own unique features and personality. All of the papers are acid-free and eco-friendly. In fact, sustainability is a major focus for Neenah.
A lot has changed since the first Neenah mill opened in 1873.  Environmental responsibility is no longer a constraint, but a cornerstone of good business.
The majority of waste from their paper mill is recycled and wastewater is treated for reuse in the paper making process. The Neenah paper mill in Appleton, WI generates 45% of their own electricity from on-site hydropower. Neenah is so certain of the benefits of environmental responsibility that they even feature an environmental calculator on their website, so you can see, quantifiably, how much your project will impact the environment, including metrics for wood, water, energy, waste, and emissions per order.
Internet and Identity
Neenah is in a league of their own when it comes to online resources. They offer a series of hour-long webinars, comprehensive virtual swatchbooks to explore, and a great blog. Against the Grain is a tremendous wealth of insights, featuring the best of American paper goods including featured projects, prominent artists and designers, and environmental responsibility. The blog features gorgeous photography and serves as a one-stop shop for anyone in need of print inspiration.
If that weren't enough, Neenah has also created apps for customers and clients in the paper industry. The Personal Proof app lets artists simulate the appearance of their work on specific grades of Neenah paper. The Cabinet app gives full access to the monumental variety of Neenah products, all from the convenience of a handheld device. Social media presence and an impressive website are one thing, but proprietary apps are the kind of forward-thinking innovations that have secured Neenah's longevity in the twenty-first century.
Visual identity is a huge factor in establishing a digital presence and Neenah has concocted a downright stunning look. In teaming with the creative experts at Design Army, campaigns like Neenah Classic look more like adverts for Gucci than a retailer of paper goods. Their YouTube series "The Beauty of", while a few years old at this point, remains a tremendous example of how a well-conceived creative project can be executed flawlessly into the manufacturing realm. The beauty of the finished project is as satisfying as the manufacturing process behind it.
Wrap it Up!
Of all the myriad applications for Neenah products, we are obviously biased towards Box Wraps. Neenah has been our resource for some of our best, award-winning projects including the HBO Game of Thrones winner from 2015. In 2016 they purchased FiberMark, another favorite partner of ours, and enveloped them into the Neenah fold. We look to Neenah for uncoated beader-dyed stock (Multicolor®), soft touch (Mano® and Senzo®) and sexy, embossed, textural, and multi-toned wraps (Skivertex®, Pellac®, Kivar® just to name a few). When we start your next project, consider flipping through a Neenah swatch book at the first brainstorm and let the possibilities overwhelm you!
Neenah Papers epitomizes what it means to be a modern American manufacturer. They remain steadfast in their processes and procedures, but made room to adapt to the new millenium. The quality of their premium products has remained undisputed, but in expanding their digital presence, they have become more prominent than ever. We are lucky at Taylor Box Company to have such amazing partners as Neenah who we can count on to help us create truly brand-defining packaging.
SaveSave
SaveSave
SaveSave
SaveSave
SaveSave