We went back into the Taylor Box Company image vault to find a project whose design has stood the test of time. What we found is this custom slipcase series from 1992-94 that we designed and produced with the Harvard Business School Press. The series were titles written by various members of the prestigious Harvard Business School faculty.
The print production manager, Basi Cascella, was a patient and very creative production professional. She had several well-known Boston industrial and graphic designers working on concepts for each professor's writing project. It was her job to stand at the crossroads of the designers, the authors, the editors, the printers and the packaging producers, us……and make it all work.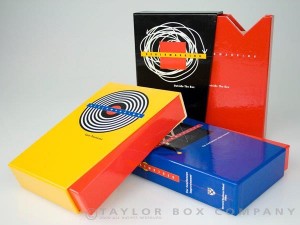 The clashof egos could be heard all the way down from Boston to our shop where we produced a steady stream of prototypes to reach that perfect package and consensus in the stakeholders. Pride of authorship was in full bloom!
As you can see from these images of the various publishing projects, the success of the authors not withstanding; these projects had not only bold high energy graphics but each edition had a unique physical elements in their construction. While books can have compelling graphics on their jackets; they lack the physical presence of a slipcase or combination slip & slashcase and the opportunities these construction offer.
Projects featured turned edge windows that were a graphical window to the book inside and slants that matched or contrasted the interior content's graphics. Many of the projects had both books and VHS tapes of lectures by the various professors.
In today's market there is less physical delivery of this category of product. Consumers prefer to subscribe to online audio-video content and demand for packaging in this category has diminished considerably.
Taylor Box Company still produces slipcases for a number of publishing categories including religious texts, academic publishers, art and table top books, limited edition books, catalogs, references and magazine storage. And we still have a representative collection of these slipcases in our library of past projects which we pull out to share an idea or two with our current clients. Good packaging design ideas are timeless and always worth a look.
Want Taylor Box to create custom slipcase for your project? Click the start your project button.